Nearly One-Third of Queensland Households Have Now Gone Solar
Recent data on solar installation in Queensland suggests that expert Solar Installers such as Jason and the team at Globe Electrical  in Brisbane are busier than ever, as a new wave of people are seeking to avoid increasingly high electricity prices and take advantage of cheaper than ever solar technology.
The results of the Roy Morgan research on households with solar panels (shown in map below) reveal that for the year to March 2017, Queensland had the second highest proportion of households (30%) with solar panels in Australia.  South Australia was the only state with a higher percentage of solar panelled homes than Queensland, at 33% of households.  The Study also found that the two states with the lowest uptake of solar panels were New South Wales (18%) and Tasmania with only 17% of households having solar panels.
Whilst having an abundance of natural sun light, update of solar panels in the northern territory is only 18% and Western Australia too is only 27%.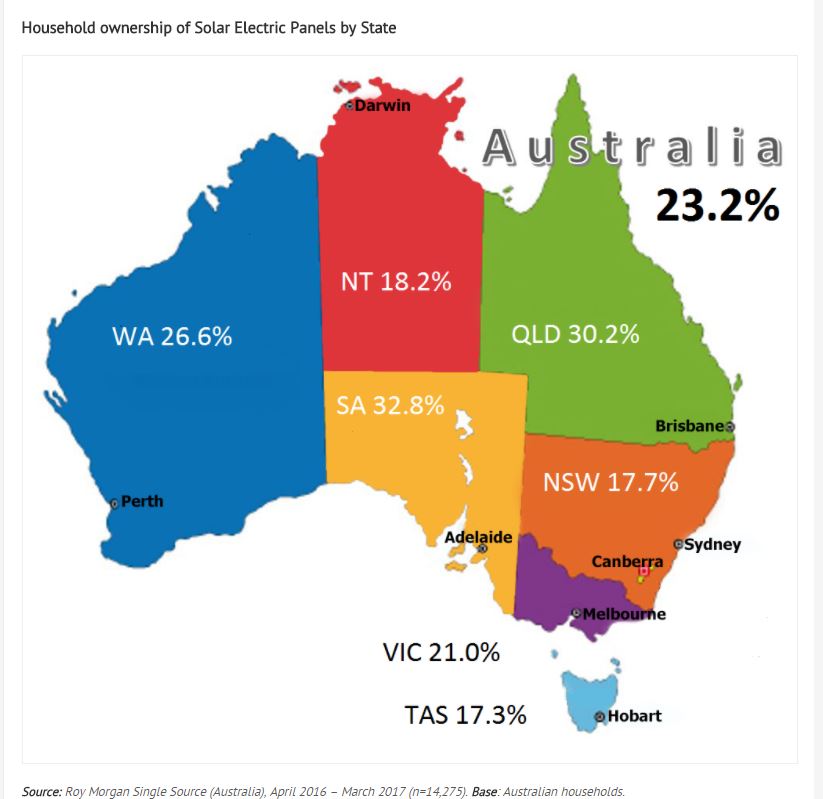 It certainly makes sense for Australians to invest in solar panels that are installed by an expert solar electrician, both for saving money and for environmental sustainability.  Jason and the friendly team at Globe Electrical Solutions are fully licenced and experienced Solar Installers.  Their skills built up over many years in the industry means their work is of the highest standard and they use the best equipment available to achieve this.
From Luxury to a Necessity
For quite a few years now solar panels have been viewed as a luxury, being far too expensive for the average household to have installed professionally. However, a rapid advancement in technology has resulted in lower pricing and together with the seemingly endless rises in electricity prices, solar panels have become almost mainstream. Through necessity, households are investing in this technology and are getting great results. The findings of the Roy Morgan research perhaps suggests a future with more and more investment in renewable energy to a point where homes with solar panels are the norm rather than the exception.  So who knows what the level of solar installation in Queensland and other Australian states will be in the future…
Globe Electrical Solutions Will Do the Job Right, Everytime
If you require an expert Solar Electrician to install your solar panel system, you can do no better than getting in touch with the Globe solar electrician team today by phoning 0433 209 393.  Once you contact us, Jason will do a site visit and recommend the number and type of solar panels required for your home or business.
Globe Electrical will also organise the government rebate for you
Of course Jason and the friendly team don't just carry out solar installation; they can take care of any electrical problem or issue you might have.  Day or night, do not hesitate to get in touch with Globe Electricians and solar installers to provide you with the solution to your need.  They are the best when it comes to Solar Panel installation, and so much more!